November 15, 2013 in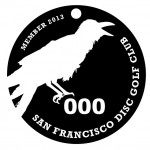 The SFDGC will be having its 2015 Bag Tag Challenge on Saturday, January 10th. This is our Annual Fundraiser Tournament to play for the new 2015 Bag Tag. Your membership gives you discounts on Club Discs for the New Year and the 2015 Bag Tag we will be playing for. Besides competing for the lowest Bag Tag we will also provide a great BBQ with Beer. It's a fun day as all the members come together, and if you're not a member it's a great time to join the club and be part of the celebration.
Here are the Details:
Saturday, January 10th, 2015
Registration: 8am-10am (no pre-reg.)
Entry Fee: $45 ($35 Membership + $10 requested Beautification Project Donation)
1-Round of 18 Holes, Rain or Shine
BBQ & Party after the round
Bag Tag Ceremony
2015 Group Photo
Games: skeeball, frisbeer, and more!
IMPORTANT: The Golden Gate Bridge will be closed all day Saturday and Sunday. Please see the following link for more information: http://goldengate.org/news/bridge/mmb_closure.php
To ease congestion, there will also be an early round on Friday January, 9th.
Registration is from 9am – 1:30pm
Last group must Tee-Off at 1:30, no exceptions. You must have at least 3 people in your group.
So come on out, join the club or renew your membership – play for a new tag, help the SFDGC raise funds, enjoy the BBQ, beer & fun!
Dates
Undefined table data
Prices
| | |
| --- | --- |
| Register and pay cash at event | $45.00 |