The SFDGC Hosts a handicapped singles league every Sunday, rain or shine. There is a rolling start from 8:30am – 10am. The total cost for "established" players is $5, with $1 going to the ace pool and the rest going to the purse (full payout). SFDGC Bag Tags are in play for club members within your own group (or multiple if you choose to "collaborate"). If you're a non-member and want to support SFDGC and the GGP course, join the club for only $40/yearly!
What: One round of 18 holes, layout is at TD's discretion.
When: Every Sunday Morning – Rolling start 8:30am – 10:00am
Where: Sign-up near Tee 01, Golden Gate Park Disc Golf Course
Why: Have fun and win some cash!
How: You must play 3 rounds to establish your handicap. On your 1st two rounds, you cannot win the "pot" but you can still compete in the Ace Pool. So play for free or $1 if you want to go after the ace! We have not "reset" the established players list since sometime in 2008. We currently have over 1400 players in our database!
Past Results: Click here
Anybody can TD one of our weeklies: Click here for more info
SFDGC hosts a weekly informal doubles round every Tuesday night. This is random draw best shot doubles. Costs $5 to enter and winners get paid that night. This is the best way to play with people you do not normally play with and to get to know some other club members.
What: Doubles League
When: Every Tuesday – Exact time pending daylight – Currently 2:30pm Start
Where: Tee 01, Golden Gate Park Disc Golf Course
Why: Its fun!
How: Random Draw, 100% payout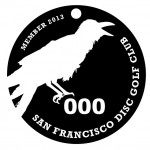 The SFDGC will be having it's 2014 Bag Tag Challenge on Saturday, January 11th. This is our Annual Fundraiser Tournament to play for the new 2014 Bag Tag. Your membership gives you discounts on Club Discs for the New Year and the 2014 Bag Tag we will be playing for. Beside competing for the lowest Bag Tag we will also provide a great BBQ with Beer. It's a fun day as all the members come together, and if you're not a member it's a great time to join the club and be part of the celebration.
Here are the Details:
Saturday, January 11th, 2014
Registration: 8am-10am
Membership Fee $40
1-Round of 18 Holes, Rain or Shine
BBQ & Party after the round
Bag Tag Ceremony
To ease congestion, there will also be an early round on Friday January, 10th.
Registration is from Noon – 1:30pm
Last group must Tee-Off at 1:30, no exceptions. You must have at least 3 people in your group.
So come on out, join the club or renew your membership – play for a new tag, help the SFDGC raise funds, enjoy the BBQ, beer & fun!
More
| | |
| --- | --- |
| January 10, 2014 - January 11, 2014 | |
| Register and pay cash at event | $40.00 |